ISO 17021
Central Advisory System Sdn.Bhd
Central Advisory System Sdn Bhd is very much concerned about business improvement and is actively engaged in assisting your organization towards ISO 17021, "Conformity assessment - Requirements for bodies providing audit and certification of management systems " Published in 2006. Currently, we are providing our consultancy services specifically to clients in Palm Oil Industry and Palm Oil Regulatory.
We are able to help your organization to achieve ISO 17021 starting from setting up policy and system in line with Standard Requirement until accreditation award is achieved.
The value of this ISO 17021 certification is to get your organization the public confidence and trust that is established by an Impartial and competent assessment by a third party accreditation body, such as International Accreditation Body- IAF (International Accreditation Forum) as well as National Accreditation Body- DSM(Department of Standards Malaysia).
ISO 17021: 2006
Requirements for bodies providing audit and certification of management systems.
Contains principles and requirements for the competence, consistency and impartiality of the audit and certification of management systems of all types (e.g. quality management systems or environmental management systems) and for bodies providing these activities.
Conformity Assessment - Where is ISO 17021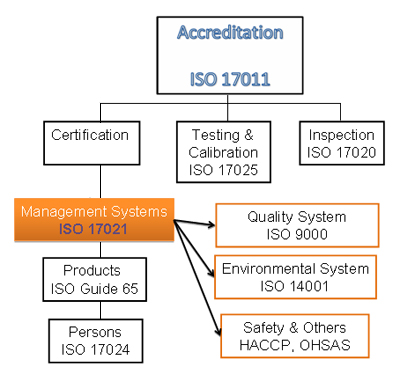 ISO/IEC 17021:2006
| | |
| --- | --- |
| 1 | Scope |
| 2 | Normative references |
| 3 | Terms and definitions |
| 4 | Principles |
| 5 | General requirements |
| 6 | Structural requirements |
| 7 | Resource requirements |
| 8 | Information requirements |
| 9 | Process requirements |
| 10 | Management system requirements for CBs |
System Requirements / Structure of the ISO 17021 Standard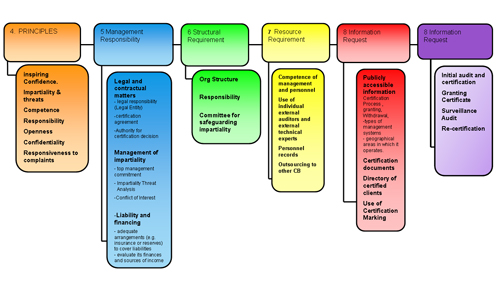 *Click to enlarge
ACB Scheme - Accreditation of Certification Bodies
(SCHEME FOR THE ACCREDITATION OF CERTIFICATION BODIES)
Operates under the Accreditation Division of the Department of Standards Malaysia (STANDARDS MALAYSIA).
Offers accreditation to any certification body, governmental or privately own, that has demonstrated compliance with published criteria and requirements of the Department of Standards Malaysia.
One of the ACB scheme : HACCP Based Food Safety Systems against criteria - MS ISO/IEC 17021:2006 & ACB-HACCP
ISO 17021
Be registered as Certification Body first.
Conduct Certification on at least 10 companies.
Apply for ISO 17021 accredited by DSM.
Accerediation Process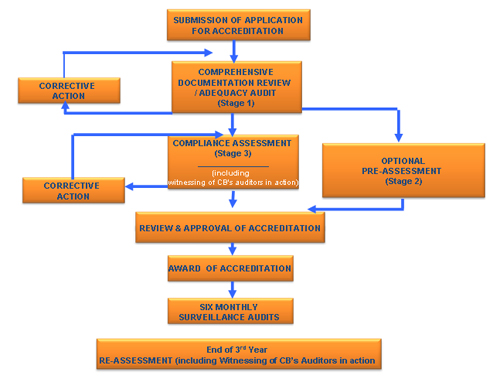 How Much Does it Cost?
Current basic fees in estimate of DSM are as follows:
Application fee RM5000
Annual fee RM5000
Assessment fee RM1000 per man-day + +
Approximately
Initial Assessment : 2 to 4 assessors ( + Technical Expert in particular assessment.)
Surveillance Audit : 2 to 4 days depending on the size of the certification body.
Additional :
Air ticket (business class) & accommodation charges for oversea assessors and/or oversea site & operations.
Validity Period of Accrediation Certificate
Valid for three (3) years.
6 Monthly Surveillance assessments.
Once a year surveillance after the first cycle of 3 years.
A re-assessment will be carried out towards the end of the third year that is, prior to the expiry of the certificate.